It's not that we can't make this a long story. Heck, one of our co-founders has been in research since 1986. But what makes the Full Circle tale so juicy can be summed up in three words: 2013, 2014 and 2015.
Check out what we've been up to since we first founded our online sample sourcing boutique, and how we're positioned to write the future of research for many years to come.
[icon_timeline timeline_style="jstime" timeline_line_style="solid" timeline_line_color="#1e73be" time_block_bg_color="rgba(21,80,132,0.45)" timeline_layout="timeline-custom-width" custom_width="930″ tl_animation="tl-animation-shadow"][icon_timeline_item time_title="2013″ icon_type="selector" icon="Defaults-heart" icon_size="32″ icon_color="#de5034″ icon_color_bg="#ffffff"]
Elevated thinking is born
The holy grail of online research? Quantity and quality. Full Circle was an evolution from the get-go, marrying the most technologically advanced platforms with the smartest resource on the planet: the human touch. The result, our Mixed-mode Validation ProcessTM (MVP), employs an internal, 120+ CATI phone center to validate our online-sourced sample (a.k.a., the best of both worlds).
[/icon_timeline_item][icon_timeline_item time_title="2014″]
We turned Up & Running into First & Only.
Full Circle becomes the first and only U.S.-based online consumer sample provider to achieve ISO 26362 certification from the CASRO Institute for Research Quality (CIRQ). And there's only one way to do that: prove that our approach to quality is as clean as we say it is. Before anyone else does.[/icon_timeline_item][icon_timeline_item time_title="2015″]
Then we kicked it up a notch
About HoNoR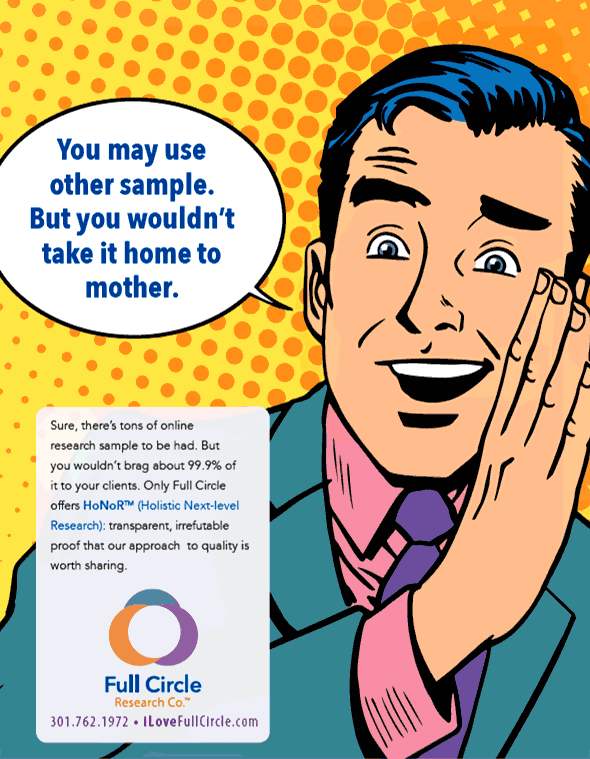 [/icon_timeline_item][/icon_timeline]