Inc. announced this week that Full Circle Research Co., is one of the top thousand fastest-growing companies in America, naming it #917 on its coveted Inc. 5000 list.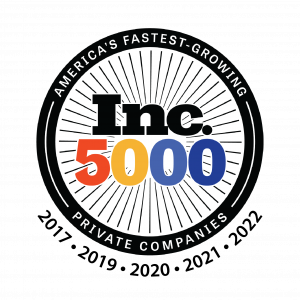 "We are truly humbled by this accomplishment," said Adam Weinstein, co-CEO of Full Circle. "Our inclusion proves that you can grow without sacrificing quality of product. We are wholly dedicated to slow, mindful expansion and are immeasurably proud of the success it's earned us thus far."
Since its launch in 2013, the company has grown 481%. The Inc. 5000 list also names Full Circle as #16 of all companies in Maryland, where the organization is headquartered.
"As an Inc. 5000 honoree, Full Circle Research now shares a pedigree with Intuit, Zappos, Under Armour, Microsoft, GoPro…and dozens of other alumni that have gone on to become household names," says Eric Schurenberg, President and Editor in Chief of Inc. Media. "During a stretch when the economy grew just 6.7 percent, that's a result most businesses could only dream of."
About Inc.
Inc. is the publisher of Inc.com, which launched in 1996, and Inc. magazine, which, for more than 30 years, has the been the premier print publication for entrepreneurs and business owners. In 1982, the company introduced the Inc. 500, which showcases the fastest-growing privately held companies in the United States. Twenty-five years later, they expanded the list to the Inc. 5000 to help readers get a deeper understanding of the entrepreneurial landscape. To learn more, visit inc.com.
About Full Circle Research Co.
Recently named Inc. 5000's #917, Full Circle Research Co., is the first and only U.S.-based, online consumer sample provider to earn ISO 26362 certification and the only company to offer HoNoR (Holistic Next-level Research) TM, a proven approach to quality. This unprecedented, automated marriage of advanced technology, flexible community strategies and industry-leading quality controls gives business decision-makers immediate access to the purest data in the industry. Full Circle prizes foresight, treasures agility, and pulls from 100 years of in-house research experience to deliver a deeply consultative, worthwhile experience. To learn more, visit iLoveFullCircle.com.
# # #