MEET THE FIRST AND ONLY U.S. ONLINE CONSUMER SAMPLE PROVIDER WITH ISO 26362 CERTIFICATION.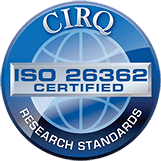 ISO 26362 research standards are a barometer of quality for our entire
industry. They were created with the consensus of research practitioners from around the world, universally recognized and globally trusted.
The audit process is an unbiased, third-party verification of our compliance. It is not a process for the weak. It is a process for the transparent.
To earn our certification, we had to willingly expose every aspect of our internal practices, partner vetting, security, privacy procedures and more. Documented proof and multiple in-person audits were required. And annual reviews must be passed at a certain minimal scoring level for us to retain our certification every year.
WE ARE ALSO PROUD TO ANNOUNCE THAT WE ARE GDPR COMPLIANT.
Understandably, Full Circle places the highest priority on collecting, managing and protecting personal data in compliance with the EU General Data Protection Regulation (GDPR)—the most significant change in data privacy regulation in two decades.
Our clients appreciate that Full Circle's compliance program is comprehensive and is led by a qualified Data Protection Officer. These safeguards ensure that we protect the sensitive data we accrue and the participants who agree to put their personal information in our hands.