From January 11-13, 2023, Catapult Insights used Full Circle's InstaConnect® to capture home improvement professionals. This was Wave 2 of a tracking study. Below is Catapult's analysis of the data. For Wave 1 analysis, click here. Wave 3 is here.
---
2022 was a rollercoaster for the home improvement, home construction and home sales industries. Watching all of the ups and downs left the experts at Catapult Insights wondering what home improvement professionals were thinking about their industry today and what they expected the future to bring.
So they partnered with online sample provider Full Circle Research mid-2022 to get a pulse on home improvement professionals in the US and what Catapult found was eye opening. Home improvement professionals were feeling the impact of inflation, supply chain issues and staffing shortages last year, and many expected those issues to continue to impact their revenue in the future.
Six months have passed since Catapult's last check in with home improvement professionals, so they felt it was time to get a pulse on what they were experiencing and thinking today. Once again, they partnered with Full Circle Research to survey this hard-to-reach audience and find out what was on their minds in 2023. Here's what was found:
Inflation's impact is expected to decrease. In 2022, 65% of pros expected their revenue to be impacted by inflation in the next year. Far fewer are saying that today – only 1 in 5 say they expect inflation to impact their revenue in 2023. Have pros successfully regulated the effects of inflation with updated expectations for margins, or is it perhaps that higher costs are successfully being passed down to the home owner?
Supply chain issues are expected to be far less concerning. Half of pros in 2022 said they expected supply chain issues to impact their revenue in the next 12 months, that number dropped to just 8% in 2023. Are supply chain issues a thing of the past or have pros found work arounds that allow them to preserve their revenue streams?
Staffing issues aren't expected in 2023. Only 7% of pros say they expect to have staffing issues in 2023, a significant drop from the one-third of pros who said they expect staffing issues in 2022. Are the number of projects beginning to level out, or are more skilled laborers returning to the trades?
The increased optimism seen among pros aligns with the shifts that the University of Michigan Consumer Sentiment Index, a well-regarded economic indicator which measures the degree of optimism consumers feel about the economy and their own financial situation, has seen over the last year. The months of June and July were the lowest point for the index (current, future and combined) in 2022, and now all three indexes are up indicating that consumers overall are more confident about the economy today and in the future than they were just six months ago.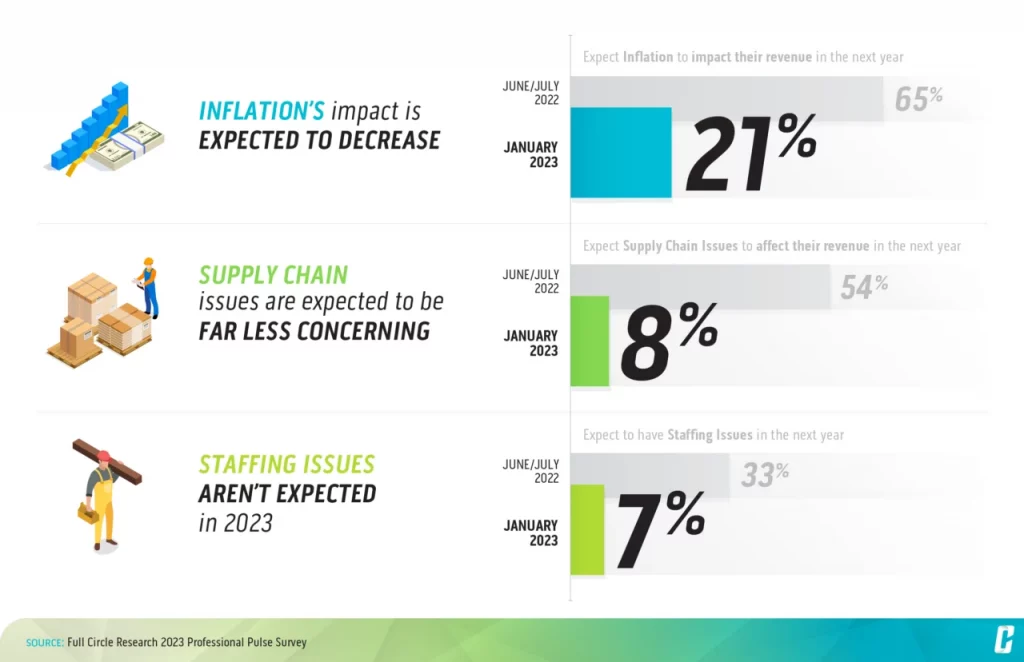 Clearly the home improvement industry is continuing to shift, but what does this mean for durable goods brands and retailers?
Keep a consistent pulse on your customers. In just six months, home improvement professionals went from expecting an uphill battle with inflation, supply chain and staffing to feeling more secure with what the future may bring. The economy is shifting and people are feeling it, which impacts their behaviors and expectations. During times of constant change, it is critical to keep a pulse on what consumers are doing, thinking and planning so your brand can be proactive in your marketing and business strategy.
Watch for over-supply in the market. Like the supply chain, a backlog of home improvement projects may finally be unraveling to return to a more normalized baseline. This means durable goods manufacturers should be watchful of over-supplying the market — something that's been on Catapult's minds since last year. Keeping a watchful eye on consumer spending behaviors and the Consumer Sentiment Index can help your brand keep pace with demand.
Keep tabs on interest rates and what the downstream effect might be for your business. After a relentless climb last year, interest rates sit at just under double what they were a year ago. High interest rates will likely depress home sales/buying as we move through 2023. People are staying put in the homes they've likely already invested some home improvement dollars into over the past 2 years when home improvement projects were booming. Given this, it stands to reason that demand for home improvement projects might slow down which potentially means less supply chain strain and less staffing needs for pros to keep up. Brands who stay relevant and innovate will be top of mind for consumers and pros and will likely be able to snag a large piece of that home improvement budget pie, even if it's overall size could shrink.
Innovate. This one is important: As signs of an apparent recession loom, more wild swings in pro (and consumer) confidence can be expected. This whiplash is challenging to navigate and can have long-term effects on consumer behavior and what people care about most. Be the brand who builds consumer confidence and stays top of mind by continually innovating, even when economic times are uncertain. History shows us that brands that innovate during a recession can come out on top. Focus on trends and evolving consumer needs, take risks and work to take your brand and products into the future to meet consumers where they will be down the road.
---
About the Survey
To provide the greatest value to its clients, Catapult Insights invests in consistent consumer research, especially within hard-to-reach audiences. For this Professional Pulse Survey, Catapult tapped online sample provider Full Circle Research, the industry leader for high-quality data, programming and hosting. This study was conducted from January 11 to 13, 2023, and captured insights from 303 home improvement professionals in trades across the industry spectrum. To learn more about the survey, contact Catapult Insights at hello@catapultinsights.com
About Catapult Insights
Catapult Insights in an outcomes-focused insights and innovation consultancy that uses research as a foundational tool to help brands grow, evolve and future-proof their businesses. Catapult creates customized creative solutions to tackle specific needs, adapting their approach to answer clients' biggest questions. Their robust suite of research methods and consulting approaches gives clients an accurate picture of people today: their needs, motivations and behaviors, as well as a predictable view into the future. To learn more, visit catapultinsights.com
About Full Circle Research
Named the 2021 Panel Company of the Year by The Marketing Research and Insight Excellence Awards (powered by Quirk's), certified to ISO since 2014, GDPR-compliant and co-founder of the international ISO awareness campaign #QualityForAll, Full Circle leads the industry in online sample quality. The company's award-winning survey experience HoNoR (Holistic Next-Level Research)® marries advanced tech, flexible community strategies, and industry-leading quality controls to deliver immediate access to proven-purest data, whether via its vibrant global panel or InstaConnect®, its premium programmatic solution that captures hardest-to-reach audiences. A staple on Inc. 5000's Fastest-Growing Companies (2017-2022) and one of the highest-scoring businesses on Inc.'s 2022 Best Workplaces list, Full Circle's foresight and agility are a direct result of a uniquely consultative approach delivered by diverse industry veterans.