From October 12-13, 2023, Catapult Insights used Full Circle's InstaConnect® to capture home improvement professionals. This was Wave 3 of the tracking study. Below is Catapult's analysis of the data. For Wave 1 analysis, click here. Wave 2 is here.
---
For Wave 3 of Catapult Insight's Home Improvement Professional Pulse Survey, their experts wanted to check in with home improvement professionals on a few things:
Was the shift we saw in January, where fewer Pros were concerned about the impact of inflation and supply chain issues on revenue and staffing issues, a trend or a blip?
What are the biggest challenges Pros are facing right now?
What qualities do Pros look for in a brand?
In addition to these key topics, Catapult also pressure-tested Full Circle's InstaConnect®, our premium programmatic solution for capturing expert networks. Their aim was to determine if they could reduce their cost per interview while still gathering high-quality, reliable data from home improvement professionals.
What did they uncover? In short, some things are leveling out, but new complex cost pressures are plaguing pros. Concerns about inflation and supply chain issues impacting revenue are up slightly from earlier this year, but still much lower than 2022, indicating that perhaps these concerns are stabilizing.
There seems to be a "new normal" for pros which entails expanded competition and high pressure on costs. While fewer pros say they are concerned with staffing issues, they are also recognizing more competition and find it challenging to find skilled labor. This may indicate that competition could be coming from a mix of skilled and unskilled "amateur" laborers. Rising material costs driven by inflation are also a big challenge from pros, and many feel it is impacting the amount of jobs available and homeowners' willingness to pay for work. Perhaps pros are seeing their competitors balance out the rising cost of materials by mixing in the cheaper labor of unskilled laborers.
Concerns about inflation, supply chain, and staffing are strikingly lower than 2022, and likely leveling out.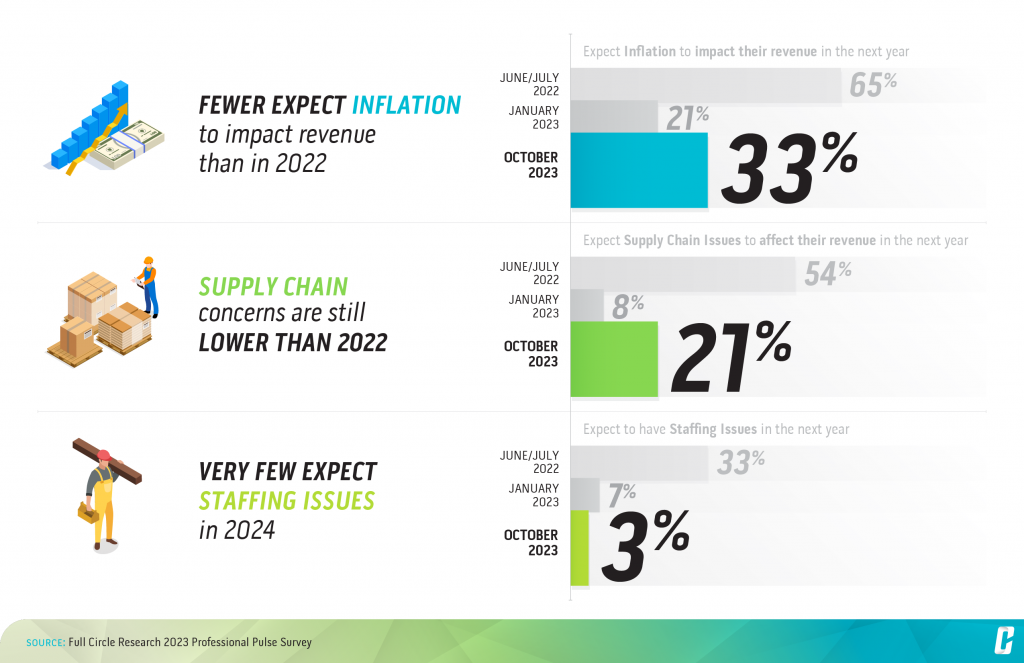 While Catapult saw a small uptick in inflation and supply chain concerns vs. January, close to half as many share these concerns as they saw in 2022. Expected staffing issues continue to decline and are nearly undetectable. This could signal a trend in home improvement pros feeling staffed well enough that it won't negatively impact their revenue. Or perhaps they have just found workarounds for a chronic staffing issue, which could include a mix of skilled and unskilled labor.
Inflation, supply chain and staffing were top-of-mind issues in 2022, but in 2023 Catapult dove a bit deeper into the challenges pros are facing today. They found the impact of inflation is a common thread. Even though only a third of pros expect inflation to impact their revenue in the next 12 months, many attribute the root cause of their top challenges to inflation.
The rising cost of materials is a key challenge for pros, and many tie that back to inflation.
"Rising costs in painting and construction materials." – Painter
"I think the main problems facing business is the high increase in products prices, making it hard to do business." – Plumber
"The biggest challenge that I am facing currently is the rising cost of materials due to supply chain disruption and inflation, this has caused a drastic reduction in revenue over the past 12 months." – Builder
Competition for jobs and an overall lack of available jobs is another top concern for home improvement pros. The hypothesized cause for this challenge varies by pro, but some attribute it to overall shifts in the industry (more pros to compete against), while others tie it back to inflation causing homeowners to postpone or rethink projects.
"The biggest challenge right now is the lack of new clients"- Rising costs in painting and construction materials." – Framer
"Lack of work due to increased prices and inflation." – Handywoman
"The biggest challenge that I'm facing in my industry is the tough competition. So many people have come to this industry." – Builder
Pros look for good prices, reliability, and trust when selecting a brand for supplies.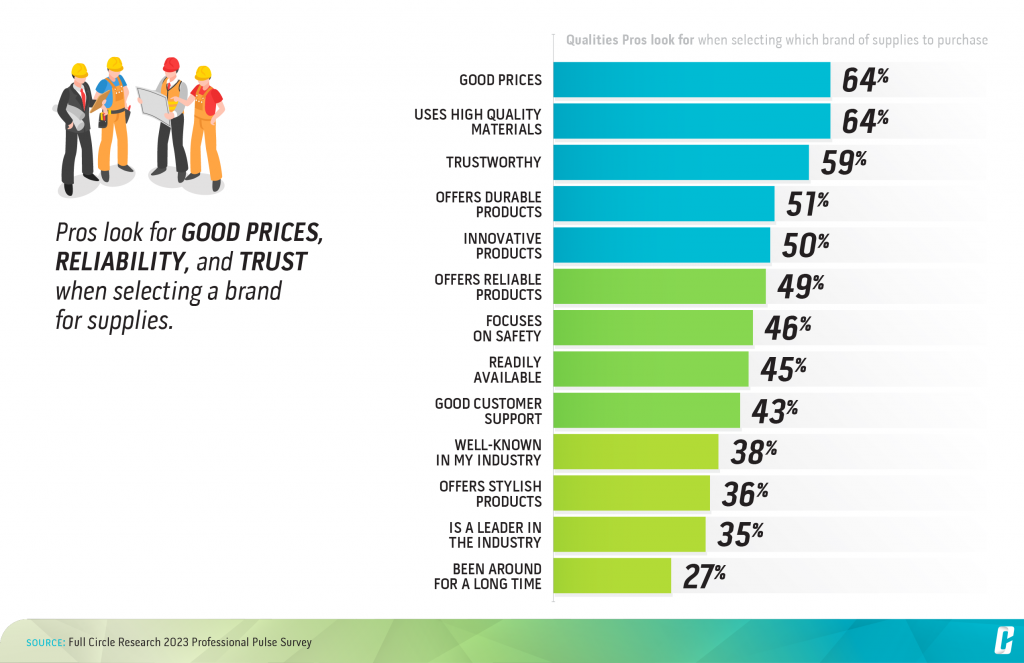 Unsurprisingly, "good prices" (64%) is top of the list of qualities pros look for when selecting which brand of supplies to purchase. Even though fewer are worried about inflation impacting their revenue than in 2022, the cost or materials is a top worry and challenge for many pros.
"Construction materials have become whopping expensive over the last few years and the cost is still rising." – Roofer
"Yes, the biggest challenge I'm facing right now is the purchase of inflated price of paint." – Painter
Some even express concern over how this will impact their clients' ability to afford the higher material prices, while others are doing the mental math of the cost-quality trade-off.
"Prices of products have gone up and our clients are becoming unable to keep up with the pricing." – Builder
"Actually, the biggest challenges I face in the industry right now is getting effective products for a cheap amount." – Plumber
Trust is another key quality pros look for in a brand for their business supplies (59%). However, some of the attributes more traditionally associated with establishing or supporting trust for a brand rank lower — being an industry leader, being around for a long time, being well-known. Instead, it seems pros are putting more focus on product related attributes which could signal trust, like high quality materials, durable and reliable products, and having a focus on safety. Instead of being about the brand overall, it's about the execution of the brand in its products.
But does this signal that perhaps the brand itself is less impactful to purchase decisions? Likely not, since many of the more traditional brand attributes may be assumed when you become a trusted brand (industry leader, well-known, etc.). This could also open the door for newer brands without a long history to successfully enter the market with strong messaging around durability and reliability.
Overall, home improvement professionals are continuing to navigate a complex marketplace and overcome a variety of challenges. Brands who can support them by recognizing their challenges and providing solutions to help them overcome those challenges will likely become their trusted partner for supplies and enjoy their loyalty for years to come.
The final insight learned from this wave's Professional Pulse Survey centers around the cost of executing research with home improvement professionals. The cost of everything has been going up lately, and market research costs are no exception. Many of Catapult's clients are trying to do more with less, so they used this wave's survey to explore some options to help them do just that. In previous waves of the Professional Pulse Survey, we offered a hefty incentive to pros that was in-line with the going rate in the industry. This wave, the incentive was reduced by 60%, with no impact on response rates, data quality or time in field. This means InstaConnect allowed Catapult to significantly reduce costs to their end clients, while still collecting clean, quality professional data – they could do more, with less.
---
About the Survey
To provide the greatest value to its clients, Catapult Insights invests in consistent consumer research, especially within hard-to-reach audiences. For this Professional Pulse Survey, Catapult tapped online sample provider Full Circle Research, the industry leader for high-quality data, programming and hosting. This wave of the study was conducted from October 12 to 13, 2023, and captured insights from 100 home improvement professionals in trades across the industry spectrum. To learn more about the survey, contact Catapult Insights at hello@catapultinsights.com
About Catapult Insights
Catapult Insights in an outcomes-focused insights and innovation consultancy that uses research as a foundational tool to help brands grow, evolve and future-proof their businesses. Catapult creates customized creative solutions to tackle specific needs, adapting their approach to answer clients' biggest questions. Their robust suite of research methods and consulting approaches gives clients an accurate picture of people today: their needs, motivations and behaviors, as well as a predictable view into the future. To learn more visit, catapultinsights.com
About Full Circle Research
Named the Panel Company of the Year by The Marketing Research and Insight Excellence Awards (powered by Quirk's), the first US-based panel certified to ISO, GDPR-compliant and co-founder of the global ISO awareness campaign #QualityForAll, Full Circle is the industry's preeminent provider of high-quality online insights. The company's award-winning survey experience HoNoR® marries advanced tech, flexible community strategies and unparalleled quality controls to deliver immediate access to proven-purest data, whether via its vibrant panel of millions or InstaConnect®, its premium programmatic solution that captures expert networks. A staple on Inc. 5000's Fastest-Growing Companies (2017-2023) and one of the highest-scoring businesses on Inc.'s 2022 Best Workplaces list, Full Circle's foresight and agility are a direct result of a uniquely consultative approach delivered by diverse industry veterans.