From January 11-12, 2023, InstaConnect surveyed 95 full-time US IT professional decision-makers. What were some of our key findings?
Aging tech stacks are top-of-mind in a rapidly changing environment. This appears more prevalent
among younger IT pros (71% of those aged 18-29) as well as 68% of organizations doing some of their own software customization. For insight, we spoke to Catapult Insight's Justin Sutton, who has supported Google's DevRel team in understanding how developers and IT decision-makers approach technology decisions. "Technology requires constant investment to allow the line of business to stay competitive, and out-of-date, legacy tech is quickly identified as a cost and maintenance nuisance. This drives interest in cloud solutions." (Our data shows 99% using some cloud productivity suites, but 65% still using on-premise productivity suites, so there's a mix that seems likely to continue trending away from on-prem solutions).
Confidence in digital transformation spending is rising. Acceleration of IT spending is expected from 81% of those surveyed, and 92% of those in organizations that customize their software. Gartner is also reporting an expected rise in worldwide IT spending in 2023.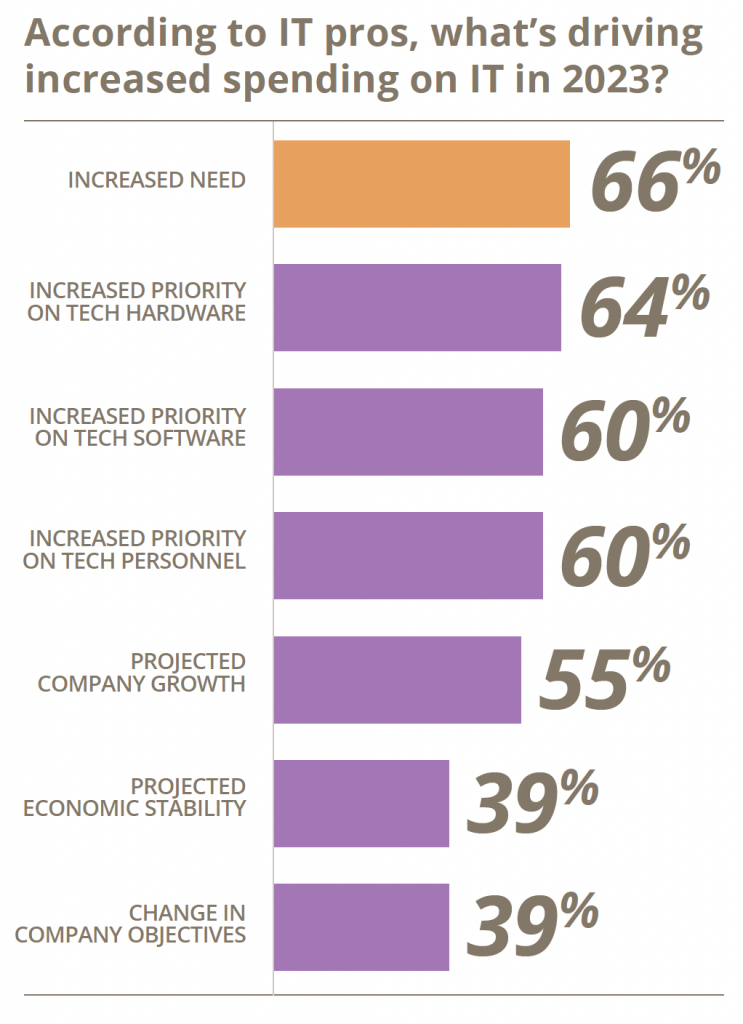 Even amid uncertain economic times, IT spending continues to trend upward, which is typically accompanied by deeper cuts elsewhere in corporate budgets. A recent example of this can be observed by larger tech firms recently making headlines for thousands of layoffs paired with massive investments into new AI-driven solutions. Says Sutton, "Many IT pros are highly aware of their traditional position as a cost-center in their organizations, especially less mature, smaller companies. This can drive sensitivity to spend more. Paired with recent layoffs in the tech sector, this could create heightened sensitivity toward the development of autonomous systems and advanced tech that could, eventually, eliminate their own positions." Further defined in StackOverflow, the confidence we're seeing today could evaporate into self-preservation attitudes tomorrow.
Budgets are expanding, but still a strain for some. 67% of IT pros in organizations that use off-the-shelf software report funding issues standing in the way of technology goals. "Smaller companies that have traditionally gotten by using off-the-shelf solutions will be seeking to do more with less," anticipates Sutton. "Software providers should be looking for ways to cater to this audience with more tailored solutions and managed services."
More Case Studies