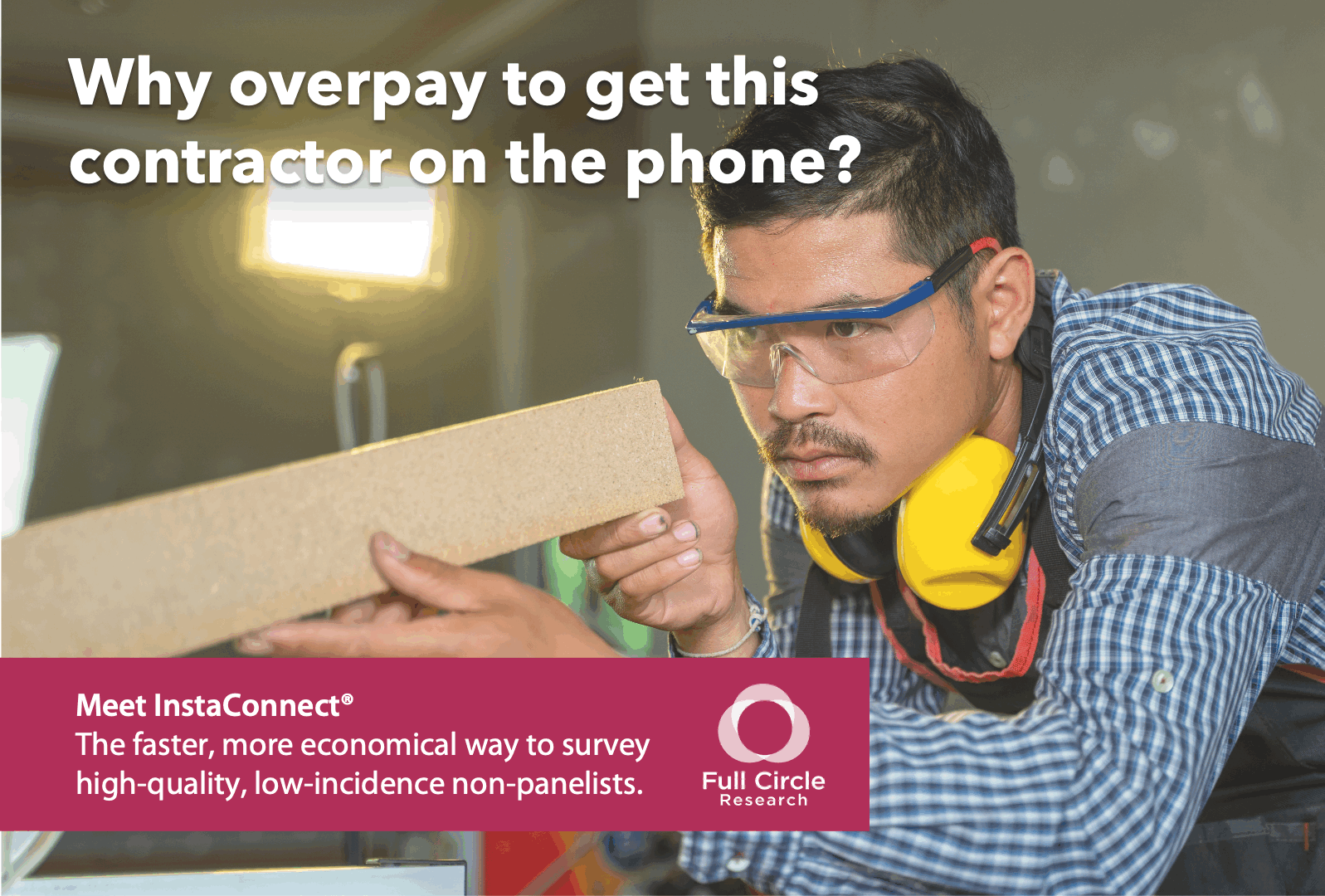 Driven to satisfy an increase in client demand for sample not available through traditional panels, Full Circle today announces the launch of its InstaConnect® product. InstaConnect's advanced technology offers a cost- and time-effective alternative to expensive offline methodologies, automatically identifying and converting the toughest-to-find targets.
"We pride ourselves in being an industry-leader when it comes to innovative MRX solutions," said co-CEO Nate Lynch. "InstaConnect is a premium product that allows us to fill quotas that cannot be satisfied with panel. And it works seamlessly with our HoNoR® data-cleaning experience, resulting in the high-quality insights our clients expect from us."
Generally, Full Circle taps its vibrant, active and diverse panel of millions for sample. But not every audience joins, forcing clients to turn to pricey and time-consuming telephone surveys to collect the data they need. In response, the company created InstaConnect®—a premium programmatic solution that tracks the behavior of digital users across websites, social media, affiliate networks and more, then uses this data to connect even the lowest IR users to the surveys and polls they're most likely to complete—automatically, seamlessly and in real-time.
"By pairing InstaConnect with our HoNoR survey experience, our clients can now reach high-quality audiences of every demographic, faster and less expensively than ever before," said co-CEO Adam Weinstein. "When organizational strategies hinge on insights at this level, it is not an overstatement to say InstaConnect has proven to be a game-changer."
About Full Circle Research
Named the 2021 Panel Company of the Year by The Marketing Research and Insight Excellence Awards (powered by Quirk's) and a staple on Inc. 5000's Fastest-Growing Companies (2017-2022), Full Circle leads the industry in data quality. The only US-based, online consumer sample provider certified to ISO 26362; now certified to ISO 20252; and the co-founder of #QualityForAll, Full Circle's award-winning survey experience HoNoR® (Holistic Next-Level Research) marries advanced tech, flexible community strategies and industry-leading quality controls to deliver immediate access to proven-purest data. One of the highest-scoring businesses on Inc.'s 2022 Best Workplaces list, Full Circle's foresight, agility and innovations are a direct result of a uniquely consultative approach delivered by diverse industry veterans.